Uncategorized
by admin on May.29, 2016, under Haunted Houses, Haunting Ideas, History of NETHERWORLD, NETHERWORLD Haunted House, Uncategorized
In 1998 NETHERWORLD moved to Norcross GA to the Georgia Antique Center. The crew had planned to build 2 haunts that year, a traditional supernatural themed one and a science fiction based attraction called Vault 13. The space was bigger than the previous location in Kennesaw but still not large enough for two haunts, so the theme changed halfway through without an intervening queue line. The owners made contact with the role playing game company White Wolf and after some crazy brainstorming it was decided that NETHERWORLD would create a Haunted House based on the popular VAMPIRE THE MASQUERADE game as the primary attraction.
Two other firsts for NETHERWORLD happened that year as well. Doug Bradley – The actor portraying Pin Head in the Hellraiser movies visited the haunt and greeted guests and signed autographs for an evening. Also after vowing never to use chainsaws we cranked one up and haven't put it down since! When the season ended NETHERWORLD had been successful once more, and the haunts were packed away into tractor trailers until a new home could be found.
Join us every week as we present a look into the twenty year History of NETHERWORLD Haunted House!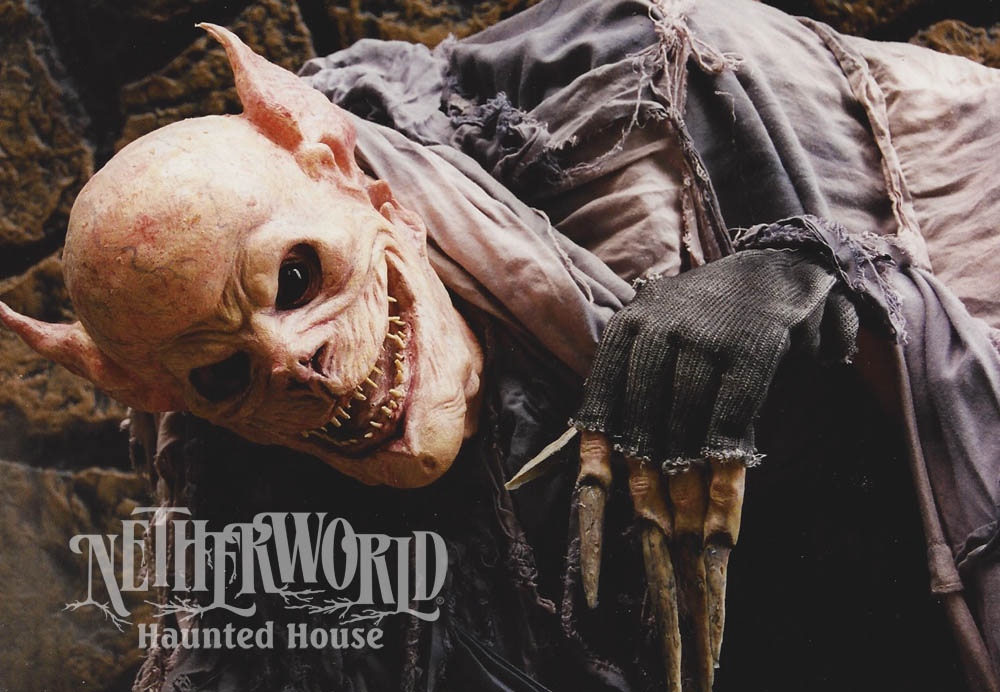 Trapped in a war between Vampire Clans, the Colber House is chosen for the haven, a place where the shroud is thin, a place often used as a door between worlds. Allies are gathered, Redcaps and Gargoyles serve the mage, and a War Ghoul is created in the catacombs beneath the house. Baron Samidi is hired to provide an army of Zombies, and the Sabbat Warparties arrive. For protection against attack, powerful magical wards are erected to repel the Camarilla Vampires and the Lupines often drawn to the place…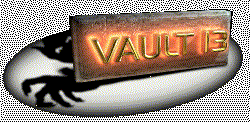 Contact Has Been Lost With A Government Base Hidden Deep Beneath The Earth! You must descend to the Vault and find out what happened…
But Beware: The containment systems are down!
Genetic Mutations, Warrior Cyborgs and Bizarre Creatures from the Earth's Inner Core roam the blackened corridors in Search of Human Flesh!
Reviews from 1998
"4 Pumpkins"—Highest Rated Haunt
– AJC
"Netherworld has creative touches that rise to the level of an art form."
– AJC
"Netherworld's mammoth Haunted House will knock your socks off."
– Where Atlanta Magazine
"The Netherworld in Norcross is indeed the acme of the many haunted houses…guaranteed to please every scare seeking patron."
– The Emory Wheel
"Immense and breathtaking."
– The Emory Wheel
"The most exciting haunted house around."
– The Emory Wheel
"Netherworld Haunted House is guaranteed to scare the bejesus out of you…"
– Creative Loafing
"A must experience for all horror lovers"
– The Atlanta Sideshow
"Netherworld is for those who are more serious about haunted houses and can handle a real fright."
– The Stormy Petrel (Oglethorpe University)
"It's [Netherworld] very scary, very well done…
I did cry, I just got overwhelmed, the tears started coming, but it was really great!"
– Nancy Loveland, Good Day Atlanta, WAGA TV
"This isn't your typical Haunted House…it's more Hollywood than anything."
– Carmen Burns and Kathy Ballou, Peachtree Morning, WXIA TV
One of ten noteworthy haunts nationwide to be mentioned in The Wall Street Journal
"The most impressive event in the Southeast."
– TRAVELHOST Magazine
"The actors terrify visitors as frighteningly realistic characters in brilliant costumes."
– Gwinnett Scene
"A state-of-the-art spooky attraction."
– Gwinnett Scene
"Not for the faint of heart."
– Gwinnett Scene
"The experience promises a myriad of special effects and makeup techniques creating a REAL haunting experience this Halloween season."
– The Champion
"One of the South's premiere Halloween experiences, the Netherworld is guaranteed to scare you silly."
– This Week Gwinnett
"One of the nation's foremost fear factories."
– Break, Tallahassee's Entertainment Weekly
"The creators of Netherworld have outdone themselves with Hollywood movie-quality sets brimming with oddities."
– Gwinnett Loaf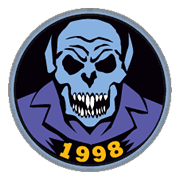 Leave a Comment
more...
by admin on Feb.22, 2014, under Haunting Ideas, NETHERWORLD Haunted House, Uncategorized
Making Halloween is a dirty job, but haunted houses, and the people who work there, are happy to do it! Each year new frightful props are created to scare the guests who visit haunted houses during the Halloween season. One way that props are made involves a process known as slushing.
Slush molding is an excellent method of producing open, hollow objects. It is a process used in many industries, and with multiple types of molding materials, to create thin skin-like coatings. In haunted house prop making, the material often used is latex.
Starting in liquid form, the slush latex is poured and painted into a cast or mold of the prop. Latex does not require heat to turn into a solid; it sets and cures at room temperature. In the video below from Netherworld Haunted House, the prop being created is a large skull. The mold has been made in four pieces that assemble to create the completed skull.
The first few coats of latex are poured and brushed into the mold and allowed to dry. These first coats will capture all the detail of the skull. After those have set, a thicker layer is laid down and strips of burlap are used to reinforce the latex. This will provide strength and durability for the finished skull.
Once the multiple-step slushing process is complete, the latex will be pulled from the molds and the four pieces sealed together to create a complete skull "skin". Later, this skin can be filled with expanding foam to form the completed prop.
Leave a Comment
more...
by admin on Oct.08, 2012, under Uncategorized
DETROIT, Oct. 5, 2012 /PRNewswire/ — Ever wondered how your favorite haunted attractions create scenes and characters that make your worst nightmares come to life?  "America Haunts: Tricks Behind the Trade" shows you how it is done.
The association of elite haunted houses that delivers fear-based entertainment to millions of thrill seekers every Halloween season released today the first of a five-part, behind-the-scenes web video series, giving fans an inside look at how members manage to evoke bloodcurdling screams from even the bravest of souls.
"As experts of scaring people every Halloween, we are committed to doing everything we can to frighten our visitors in new and exciting ways each year," said America Haunts board member Amber Arnett Bequeaith.  "This video series demonstrates the dedication we have in making our haunts a place where visitors' wildest imaginations come to life."
"America Haunts: The Tricks Behind the Trade" takes viewers on a tour of five members' haunted houses to uncover what makes America Haunts attractions the best in the country.  From high- and low-tech secrets to creating stunning designs and creepy and realistic-looking monsters, viewers get a look behind the curtain and hear from the craftsmen, engineers and makeup artists.
All five videos can be accessed on the America Haunts' YouTube profile.  Each will be posted at 9 a.m. on the following dates:
October 5The Darkness (St. Louis)—Hear about how CGI technology is used to create characters ranging from dancing ghosts to a painting on the wall with eyes that follow visitors wherever they go.
October 10Headless Horseman Hayrides and Haunted Houses (Ulster Park, N.Y.)—See how this haunt uses a combination of today's technology with techniques dating back to the 1930s to create illusions so real you think you have just stepped back in time to Sleepy Hollow.
October 12Erebus Haunted House (Pontiac, Mich.)—Meet "Bernie" a computerized system that "keeps an eye" on more than 100,000 square feet of this haunt, monitoring visitors and activating the animatronics and special effects at just the right moment.
October 17The Bates Motel (Philadelphia)—Learn how this haunt uses its actors and animatronics to elicit the biggest scare it can get from its visitors.
October 19Netherworld (Atlanta)—Find out how your favorite haunts make their monsters look so real (they are just actors, aren't they?).
For more information, including hours and ticket prices, go to www.AmericaHaunts.com/attractions.
With 30 haunted houses and attractions across the country, America Haunts delivers fear-based entertainment to more than a million thrill seekers annually. America Haunts has been featured on the Travel Channel and its members recognized by The Guinness Book of World Records on multiple occasions. The organization is committed to providing technical excellence, stunning set design, Hollywood-quality make-up, costumes and actors. For more information, visit AmericaHaunts.com.
Leave a Comment
more...
by admin on May.23, 2011, under Uncategorized
The Nightmares!
Earths last defenders were being slaughtered. With the eternal darkness of the Blood Night wrapping the world in a fetid mist, gargoyle swarms and other foul monsters continued the hunting and subjugation of the human race. As hordes of evil creatures emerged from the NETHERWORLD, the Illuminati Warriors who opposed them fell swiftly in battle to the savage beasts. Then the most deadly blow of all was struck . With the tolling of ominous bells came the rulers of the NETHERWORLD, the dread NIGHTMARE KINGS! These powerful THINGS seemed at first glance to be little more than gaunt, ancient, fanged and taloned ghouls wrapped in burial shrouds. But they possessed dark powers to warp reality, to change their very forms and summon the living nightmares of any who would dare confront them. Commanding armies of massive war beasts, these specters glided like noxious gray shadows over the landscape, hunting human survivors and feasting on their deepest fears before consuming their souls.
The Prophet had foreseen all of this and had told the great master of the Illuminati, the EYE. Together they had prepared a plan to save what remained of the Earth. First using ancient voodoo rituals, they summoned from the grave an army of ZOMBIES to protect the Illuminati and do battle with the NIGHTMARE KINGS. But this was only a delay tactic to give the EYE time to end the Blood Night (The accursed event that gave NETHERWORLD's hordes the free run of Earth). At long last the EYE had come to an accord with Goulich, the Vampire Lord who had called the Blood Night down upon Mankind. Sealed in the Mansion of the Prophet, guarded by the undead, Illuminati warriors and the very forces of nature, the Prophet, the EYE and Goulich worked together to undo the Vampire Lord's spell. Soon the NIGHTMARE KINGS and their minions would penetrate the defenses and destroy them all.
The end was near. The NIGHTMARE KINGS and their armies had begun to breach the mystical and spiritual barriers around the Prophet's Sanctum. Goblins with digging beasts burrowed into the sub basements of the mansion, as Gargoyles swarmed the skies above. Would the combined powers of THE EYE, the Prophet and Lord Goulich be enough to end the Blood Night before the world was completely over run?
We dare you to experience THE NIGHTMARES, the final chapter of the Blood Night Saga this Halloween season at the legendary NETHERWORLD Haunted House!
The Forces of the Illuminati
These forces are a loose alliance of mystics and monsters trying to halt the NETHERWORLD invasion of the Earth. If they were ever to succeed in defeating their foes, it would most likely result in them turning on each other.
The Prophet – Randolph Whatley: A powerful Sorcerer and Soothsayer, Whatley is neither truly alive nor dead. Pure power and force of will keep him out of the grave after almost two hundred and thirteen years of tortured existence, still moving and scheming while his very body rots away. He always remains in his secluded Mansion surrounded by the many spirits he has trapped and a few loyal servants, usually gazing into an obsidian mirror to divine the future.
Lord Goulich – Vampire Leader: It was he after two thousand years of watching humanity grow in power who summoned the Blood Night and plunged the world into eternal darkness. However Ghoulich was betrayed when the Gargoyle hordes who invaded the Earth slew all of the Vampires they could find. Now he regrets his dark pact with the NETHERWORLD and seeks to end the Blood Night, to let the sun shine once more upon the earth and eradicate the Gargoyles.
The Brides -Vampire Wives of Goulich: Evil, cunning and seductive, the Vampire Brides of Lord Goulich are excellent warriors and not to be taken lightly. Much older and battle skilled than they seem at first glance, the Brides have slain many Gargoyles in the pitched battles of the Blood Night.
The EYE- Master of the Illuminati: The true nature of this entity is unknown. It may be a force from a hidden dimension or a projection of a living being actually present on earth. What is known is that it has immense power and knowledge and assists mankind especially when we are threatened by inhuman evil. It is usually seen as a gigantic eye, and often exudes tentacles of ectoplasm to move objects.
The Mangler – Genius Surgeon and Psychopath: This former doctor is now a twisted serial killer who had been evading the police by hiding in underground tunnels for years. Feeling no physical or emotional sensations, he is always eager to search for the location of the emotions in the flesh of his victims. After being captured and put to work by NECROTECH, he began creating zombie/cyborg warriors using the reanimation drug NECROMUTEN 7. When the Blood Night occurred he was recruited by The EYE to help build a zombie/cyborg army to defend mankind. Eager only to be left alone he agreed to help defeat the NETHERWORLD invaders so that humanity would continue to thrive…and continue to supply him with test subjects.
Illuminati Warriors: Soldiers trained in non-traditional warfare methods and in special combat techniques including the use of magic and non-standard weaponry against inhuman/alien/spectral opponents. They may have ethereal armor, powered weapons, odd technology and vehicles used for extra planar travel. The Illuminati warriors did especially well against the Krampus and Gargoyles at the beginning of the Blood Night, but are no match for the Nightmare Kings and their colossal war beasts.
Zombies & Zombie Cyborgs: Used as Shock Troops by the Illuminati, zombies are corpses risen from the dead, usually by voodoo rituals. Zombie cyborgs are resurrected by scientific means, usually massive injections of NECROMUTEN 7, and often have control implants and built in weaponry.
Werewolves – Normally these savage beasts mutilate anyone or anything that crosses them. In the short term however they have allied with the Illuminati to face the greater threat of the NETHERWORLD invasion.
Plant Mutations – Massive plant creatures such as the Pumpkin King grown to defend Illuminati strongholds. They are, however, subject to being controlled by the Harvestman.
Forces of the NETHERWORLD
These are the spirits of humans and other beings and the various races of monsters that dwell in the NETHERWORLD. They are characterized by a weakness to earthly sunlight and a hunger for human flesh. Almost any creature from the NETHERWORLD will be destroyed by sunlight unless it is hidden within or possessing a creature of this earth in a similar way to the HARVESTMAN or the COLLECTOR. Generally they do whatever they wish unless forced into service by a powerful creature such as an OLD ONE or a NIGHTMARE KING.
Animates: Constructs made of flesh , wood or even metal that have been inhabited by spirits from the NETHERWORLD. They may controlled by the spirits of dead humans, as in the case of DOLLY and BUDDY, or they may be controlled by demons as in the case of FRANK aka Cronos or the LIVING STATUES. The HARVESTMAN is a sort of animate that grows a new twisted plant body every year. However the HARVESTMAN is also something far greater, a creature that exists primarily to open doorways to the NETHERWORLD.
The Possessed: Living or dead humans who house a dark spirit from the NETHERWORLD inside of them. The most well known and powerful of these is the COLLECTOR, a skeletal thing that collects souls for the dark masters of the NETHERWORLD. Other well known possessed beings include Dr. Colber, who opened the doorway to the NETHERWORLD sixty-five years ago and has had an evil inside him ever since.
Old Ones/War Beasts: Massive monsters from the NETHERWORLD. These things are ancient and almost beyond the power of anything to destroy. Some possess massive intelligence while others are purely animalistic. The ancient intelligent versions are called Old Ones and are usually worshiped or served by lesser beings. War Beasts are also massive but generally less intelligent types of these things often controlled and used as living weapons by NIGHTMARE KINGS.
Spirits of the Dead: Lost souls both human and otherwise that inhabit the NETHERWORLD. They can possess corpses, be used to create animates, or simply consumed for energy by more powerful beings.
Gargoyles: Lead by Vargoth, these are the winged , horned armored air force of the NETHERWORLD. A vast army of them invaded the Earth during the Blood Night.
Goblins: Smaller non-flying monsters, goblins are tricky foot soldiers and clever and cunning when it comes to technology, mining, forging of weapons, and controlling war beasts.
Chameleons: These human sized monsters can conceal themselves as almost anything. Usually they appear to be foliage and other organic surfaces like stone, but when a human gets too close they suddenly attack from hiding.
Krampus Monsters and Ogres: Massive armored monsters, these are the shock troops of the NETHERWORLD. Brandishing huge weapons, they plunge recklessly into battle. Ogres are generally less intelligent and have no horns, while Krampus tend to be more sadistic and intelligent, have large horns, and an affectation for wearing noisy bells.
Nightmare Kings: Extremely ancient and evil beings that look like emaciated ghoulish corpses with needlelike teeth and claws. They tend to wear bits of armor and rotting robes or burial shrouds. Nightmare Kings are capable of flight, changing their shape, and summoning up the deepest fears of their victims. The true rulers of the NETHERWORLD, they only fear and pay homage to the most mighty of the Old Ones.
Leave a Comment
more...
by admin on May.21, 2011, under Uncategorized
Deposition part 5 of Beckman Surveyors v. United Water and Sewage.
Lyle Taylor, Mechanical Engineer, Beckman Surveyors
…..The problems with Area 16 of the county water system were well known. Years of decay and neglect in the old tenement buildings had caused multiple water mains to burst leading to erosion and building collapses. The out flow of several nearby factories created a toxic soup made worse by the draining blood and waste from the nearby slaughterhouse. Even in the coldest winters the sewer and abandoned subways systems were warm, a chemical reaction caused by the rotting organic matter that choked them. It probably would have gone on like this for years more if it wasn't for the nasty stench and the steam that poured from nearby manholes. And then of course the disappearances began.
Beckman Surveyors was contracted by the city to map the tunnels and document the damage. We knew going in that so called "mole people" lived down there, and there were always the "Sewer Alligator" legends every tunnel worker learns on his first day, but nothing would prepare us for the events that were about to unfold.
Deposition part 7 of Beckman Surveyors v. United Water and Sewage.
….. When Grossman's team didn't return we sent a crew down at once. Signs of a struggle were found and a water proof camera issued by us was recovered. The photos found were the cause of all that came next….
Deposition part 9 of Beckman Surveyors v. United Water and Sewage.
….. UWS knew. They had to know! The things we saw! The sinkholes were caused by tunneling from below. Traps to catch more "surface dwellers" no doubt. How many have gone missing over the years, how many poor squatters that no one even knew? The bones, so many bones… There were no more "Mole People." No, they were all dead! And the Sewer Gators? You saw the bodies! They raised them down there as pets…worshiped them as gods! The Trogs needed to eat, to feed their families…They captured children for God's sake and CHANGED them…Modified them, brought them into the TRIBE! And the pets, especially that BIG one… he had to eat even more … all they wanted, all they needed was more and more RAW MEAT!
Leave a Comment
more...
by admin on May.02, 2011, under NETHERWORLD Haunted House, Uncategorized
Half Way to Halloween!
It's that time of year again – when we make a six-month mental note that THE coolest holiday on the calendar is right around the corner. May 1, 2011 marks "Half Way to Halloween", the unofficial midway celebration of All Hallowe's Eve.
Halloween has picked up a lot of steam over the past several years, and fans of pumpkin carving, costumes and candy corn can hardly wait for the change of seasons that heralds trick or treating. In order to ease the suffering that holding out for October 31 brings, "Half Way to Halloween" has swooped in like the Great Pumpkin to save the day (and night)!
Haunters around the country will commemorate the occasion with parties, balls, film festivals, concerts and more. If you're hankering for a hunk of Halloween hijinx, dig around a bit and find out what your area has to offer. Better yet, throw your own impromptu "Half Way to Halloween" event and take a moment to remind everyone you know that it won't be long before the ghosts and goblins are ringing doorbells and daring you to smell their feet (personally, I'll will be donning my official Netherworld Haunted House worker shirt for the weekend in order to share the love). If nothing else, use the occasion as a jumpstart to begin prep work on your official Halloween celebration. The Family Crafts forums have some ideas to help get the ball rolling:
http://familycrafts.about.com/b/2010/05/04/half-way-to-halloween.htm
What else you gonna do this weekend – watch live coverage of the Royal Couple signing thank-you cards? Now THAT's scary…
Leave a Comment
more...
by admin on Mar.03, 2011, under Uncategorized
Shop 'til you drop…dead
Love the spooky?
Did the diabolical?
Crave the creepy?
Want to spice up your crypt with a little ghoul-cool, but the local mall doesn't offer much in the way of Lovecraftian decor?
Hopefully, we can help you out with a few suggestions that will make pimping out your pad – scary style – a bit less frustrating.
Let us turn our attention to that modern marvel of marketing madness…the internet. Never has getting your claws on that elusive item ever been so easy. With the click of a mouse, the world's gallery is at your fingertips. Now, we all know about Ebay, but where else can you find some sweet swag for your sanctum of the sanguine? Hmmm…
You can find a nice little hodgepodge of ideas at goreydetails.net
Broken down by themes and categories, the fine folks at Gorey Details offer up a variety of goods with the haunted housemaker in mind. Artwork, jewelry, stickes, toys, clothing and more awaits you there…
If novelties are more your thing, a quick search of the word "horror" will deliver a vast array of figures, props, sculpture and collectibles at the Entertainment Earth website. Everything from Saw puppets to stuffed Jasons to Dead Space gun replicas can be ordered from this popular company, who excel in prompt delivery and top-notch customer service. entertainmentearth.com
Fancy yourself the brainy, book learning type of person? Then hop on over to darkdel.com where the top-rated horror bookstore Dark Delicacies specializes in tomes featuring the macabre. Based in beautiful Burbank, California, Dark Delicacies has something for pretty much any brain-eating..um…brainiac.
Wanna deck the walls? Visit Fine Art America for a bevy of prints and originals by some of today's leading horror-themed illustrators. You can find any number of styles, sizes and subjects to add that extra something to your home design. fineartamerica.com/art/paintings/horror/all
Of course, Hot Topic has been dishing out the goth and dark horror gear for a while. From clothing to jewelry to music, there's quite a variety to be found on their site. hottopic.com
If you want to really treat yourself, look no further than Sideshow Collectibles. The amazing artisans of Sideshow have been producing the finest museum-quality figures and sculpture for some time. Everything from classic Universal Monsters to contemporary horror can be located on their site. Be it Buffy, Hellboy, Aliens, Predators, Elvira, The Munsters, zombies, and much more, Sideshow Collectibles has mastered it in some form or other.
sideshowtoy.com/?page_id=4488&license=Classic Monsters|New Line House of Horrors|The Dead&ref=2ndnav-horror-home
Again, this is just a random smattering to get you started. There's a great big, wide world web of treasures to be found out there. Get hunting!
Leave a Comment
more...