by admin on May.29, 2016, under Haunted Houses, Haunting Ideas, History of NETHERWORLD, NETHERWORLD Haunted House
1999 was a make or break season for NETHERWORLD. For the first time we moved into a location with a year round lease, the same building we had occupied during 1998 but a different, larger suite. This location had amazingly high ceilings, but also presented a number of major complications that were very costly and put the attraction into a serious cash crunch. Two new fire escapes had to be constructed, multiple fire doors were added, a massive two sided firewall was built and these expenses combined with year round rent made success during the season extremely critical.
The theme was APOCALYPSE for the main show, reflecting the coming turn of the century (2000) and touching on the more elaborate themes that would be developed in the years to come. For the first time a second ticketed event was added… NETHERWORLD 3D Haunted House – The First 3D Haunted House in Atlanta or the Southeast. Fortunately the inventor of the Chroma Depth Technology that made 3D haunts possible lived in Atlanta and agreed to sponsor the haunt.
Both events were very successful and NETHERWORLD charged into the new century with a permanent home and the ability for the crew to work on the attraction all year long!
Check back soon for a further look into the twenty year history of NETHERWORLD Haunted House!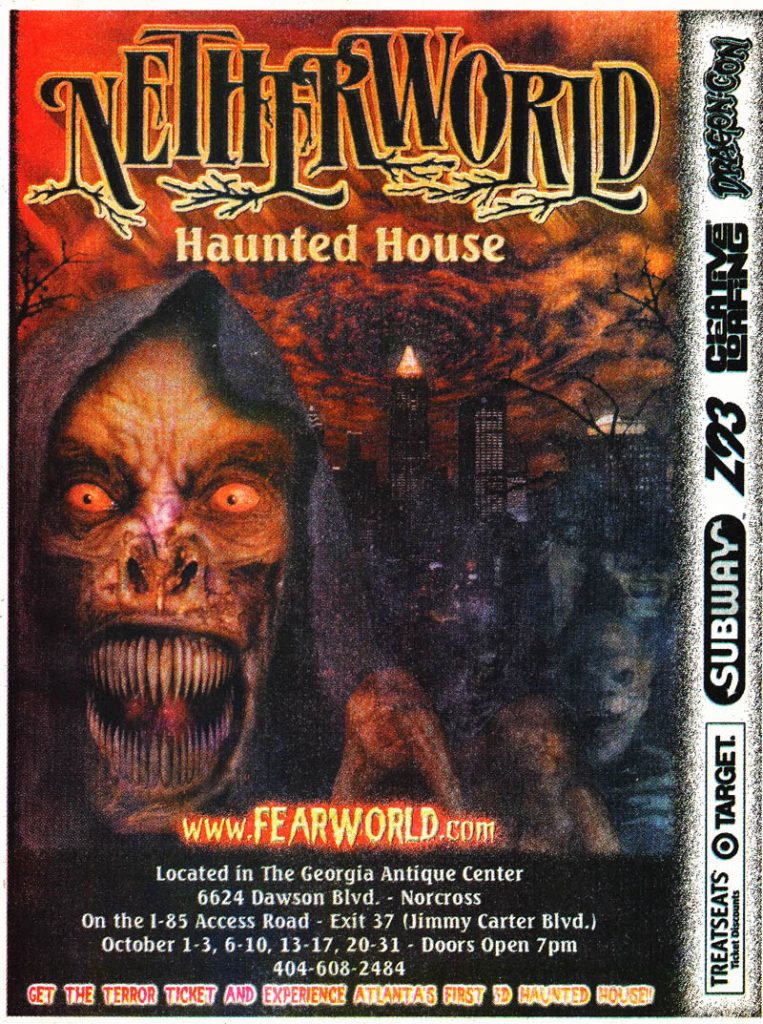 Journey into the future, to a land ravaged by hideous creatures from the Netherworld! Dark armies of Armored War Beasts and Malignant Spirits of the Dead lay siege to a helpless planet!
Travel through blasted cities, forgotten burial grounds, bizarre laboratories and the deepest pits of the outer darkness on a quest to encounter The Ultimate Horror!
Abandon all hope, Ye who dare enter: NETHERWORLD the APOCALYPSE!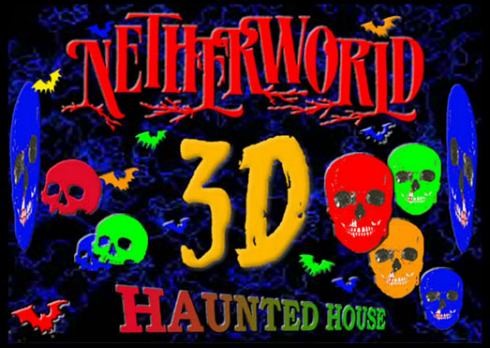 Experience a BRAIN BENDING adventure in 3-D Technology!
Put on the special Chromadepth glasses and
enter a haunted house like no other!
Explore an old manor filled with GHOSTLY inhabitants and a TWISTED Carnival funhouse sure to melt your mind!
The Terror Surrounds You in NETHERWORLD 3D!
Reviews from 1999:
"Netherworld and its creative team have hit upon a successful formula of creativity and originality…it has risen to the top in a tough Atlanta market and gained national notoriety."
– Haunted Attraction Magazine
"A world right out of a Hollywood movie."
– Haunted Attraction Magazine
"A haunt that is reminiscent of a movie set, complete with prosthetic makeup, custom-made masks, and one-of-a-kind props."
– Haunted Attraction Magazine
"In your face scary!"
– Creative Loafing
"A mind-bending experience."
– Creative Loafing
"You wouldn't want to miss this!"
– Creative Loafing
"The first of its kind in the Southeast."
– Piedmont Review
"A Halloween favorite after only three short years, Netherworld has become known as one of the scariest haunts nationwide."
– Piedmont Review
"With 3-D technology, movie style special effects and monsters from your worst nightmares, Netherworld is not the typical haunted house."
– Piedmont Review
"An exciting adventure for the whole family—no one will leave disappointed."
– Piedmont Review
"Netherworld has become known as one of the scariest haunts nationwide, with movie style special effects and monsters from your worst nightmares… If you're looking to bring Halloween nostalgia back into your life, then a visit to Netherworld is a must."
– Piedmont Review
"A haunted house with a unique twist."
– Piedmont Review
"The creators have gone warthog-wild crafting immense, quivering monsters you've never seen anywhere."
– AJC
"If you're looking to bring Halloween nostalgia back into your life, then a visit to Netherworld is a must."
– Piedmont Review
"A Halloween favorite and an Atlanta tradition."
– The Gazette
"If it's terror you want, look no further than the Netherworld Haunted House."
– Southern Voice
"Spooktacular!"
– Southern Voice
"The scariest haunted house in town."
– atlantacitysearch.com, in city & visitors guide
"One of the South's premiere haunted experiences."
– Going Places Magazine (National)
"One hell of a haunted house."
– INsite
"Get your chills, thrills, and spills at Netherworld Haunted House."
– GSU Signal
"You're in for a wild time!"
– GSU Signal
"For a frighteningly good time, check out Netherworld!"
– GSU Signal
"Netherworld Haunted House in Norcross gives horror decidedly high-tech feel."
– AJC Peach Buzz
"The first haunted house of its kind in the South."
– The Technique
"Netherworld successfully blends old school haunted house scares with a new 3-D style that will effectively blow your mind."
– The West Georgian