by admin on May.29, 2016, under Haunted Houses, Haunting Ideas, History of NETHERWORLD, NETHERWORLD Haunted House
1997 – Year One of NETHERWORLD Haunted House
NETHERWORLD Haunted House began in 1997 as the creation of a dedicated team of artists and craftsmen with extensive backgrounds in film and television production. Some of the founders were also experienced Haunted House designers having worked for Chambers of Terror, a local haunt in Atlanta, and the national haunted house franchise, Silo X. At the time, most Haunts were based on disconnected scenes from popular horror movies, but the focus of NETHERWORLD was to create an original story and characters that could be found nowhere else. While deeply themed, highly detailed Haunted Houses are now more the norm than the exception, it was not the case twenty years ago. After creating a preview Haunted House at Dragon Con, the first NETHERWORLD was built in Kennesaw, Georgia in little more than a month. When the season ended NETHERWORLD had survived and flourished. The attraction was packed up in U-Haul trucks and taken to the second floor of an old warehouse and scattered into basements and garages until it would resurface once more in 1998!
Join us every week as we present a look into the twenty year History of NETHERWORLD Haunted House!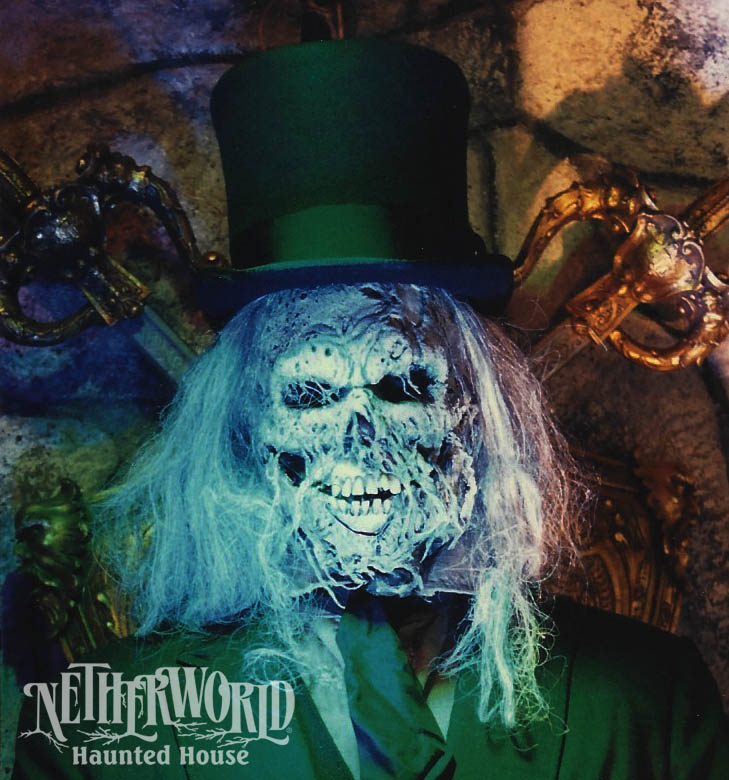 NETHERWORLD Haunted House: The Colber Mansion
50 years ago, a madman named Maxmillian Colber opened a doorway to another world and looked upon The Place Where Monsters Dwell, A Realm of Yawning Graves, The World of the Dead.
In seconds, his foolish experiments unleashed lost souls thirsting for vengeance and nameless horrors hungry for the flesh of the living! And feed they did.
Tonight, YOU must travel to the depths of the Colber House, before the door to the Netherworld opens…FOREVER!
Reviews from 1997
"It's a haunted attraction the likes of which Atlanta has never seen…guaranteed to scare and entertain."
– Season for KiDs
"Georgia's most intense haunted house."
– Season for KiDs
"You won't find any repeats here—these creepy creatures are unique and specifically designed just for the hallowed Netherworld."
– Connect
"This hair-raising haunted house features over 30 scenes dripping with ghostly effects, theatrical events and magical illusions guaranteed to cause blood-curdling screams."
– Connect
Number 1 Haunted House in Atlanta – "Nonstop action, awesome monsters and sets gave this new house top honors."
– 96 Rock
"Be prepared to be scared!"
– Atlanta Theatre Weekly
"Get ready to scream!"
– The Marietta Daily Journal
"A macabre maze of monsters."
– The Marietta Daily Journal
"More blood-curdling chills than Amityville."
– The Marietta Daily Journal
"This House [Netherworld] was terrifying, which was almost a shame because I would have liked to stop and admire each intricate scenario. The scenes and characters are all strikingly original…at the end of your journey you escape through a whirling Vortex, a totally disorienting effect unlike anything you've ever seen!"
– Community Review