by admin on Sep.05, 2011, under Haunted Houses, NETHERWORLD Haunted House
Raw Meat unleashes shocking scares!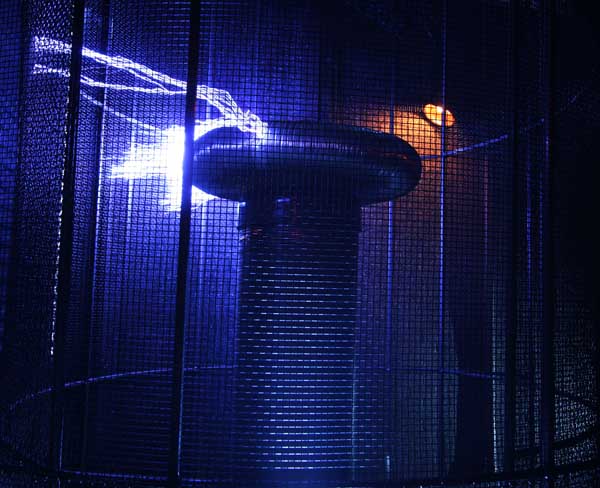 Electrophobia – an irrational fear of electricity – can immobilize one in this modern age. Our very existence is surrounded by the stuff, and we would be at a fairly large disadvantage without it. Yet for some it is the cause of great distress, as the uncontrollable fear of it paralyzes them with fright. While our logical mind lets us know that when handled safely and properly electricity is perfectly harmless in everyday use, the electrophobiac is powerless to rationalize these factors. Simply stated, they are shocked into anxiety.
Netherworld Haunted House's Raw Meat is an electrifying experience for anyone, but for the typical electrophobiac it may provide unprecedented jolts of terror. From the massive Tesla coil throwing off lightning bolts to the various lab equipment scattered about the haunt, electricity snaps, crackles and pops at every turn. The juice flows all around, as a subway car barrels through this underground nightmare. Diabolical scientific experiments drain power from sinister sources, and the horrific living results dart in and out of the flickering light. Years of neglect have left vital power lines exposed, unprotected from the dripping ooze that permeates from the very walls, making navigation out of this torment stressful to even the most stable visitor.
Be you brave hearted or a victim of electrophobia, you're guaranteed to get a charge out of Raw Meat this Halloween season!